Welcome to Marianske Lazne
Marianske Lazne is a jewel among the spas in the Czech Republic.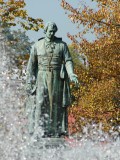 It is an architectonic masterpiece. A city in a park, a park in a city. A city of healing mineral springs. A spa visited and admired by kings and emperors, famous artists, musicians and scholars.
Improve your health with the help of the best specialists in balneology. Experience the wellness. Go in for your favourite sport in the beautiful countryside and fresh air. Admire the ancient castles and magnificent chateaux. Or just relax and enjoy the spa atmosphere and excellent gastronomy. Visit Marianske Lazne.
"Procestoval jsem celou Indii, Ceylon, všechna lázeňská města Evropy, ale nikde na světě mne nechytila u srdce poezie nádherné přírody tak jako zde v Mariánských Lázních," anglický král Edward VII (1841-1910).
Various categories of accommodation in an around of Marianske Lazne. Detailed description. Booking form going directly to the facility.
Marianske Lazne Photogallery